Our team are always eager to hear from the users of Weploy, both employers and employees, on how they find the experience of using our product. Of course, we love to hear about it working well – the problems it has solved, and how it has helped improve time to hire, operational efficiency and agility.
But we understand it's not all pink fluffy clouds out there in the world of temporary recruitment. So, we also enjoy exploring those big problem areas our customers have, the pain points that make them roll their eyes behind their computers, keep them up at night and give them a headache every Monday morning. All this gives us real insight into how we can improve our product and how we can get bigger and better.
The Problem
In response to a common problem that we kept hearing about, we've updated our dashboard with a slick new look and introduced a cool new feature. Imagine having a "restricted view" seat at the theatre, or hearing a juicy story over the phone and your battery dying halfway through? Some of our hiring managers found that, upon logging into their Weploy dashboard and only seeing the roles they posted themselves was a little restrictive. What roles were their counterparts in other departments posting? What jobs have already been completed? What detail was given previously that could be used again or improved on?
The Solution
Allow us to announce our latest update, affectionately known as 'Job Visibility'. Now, users with access to the Weploy dashboard can see a full, 360-degree view of past, present and future Weployee roles within their organisation, instead of only the jobs that they have posted themselves. Now, Weployers are empowered with greater visibility, and better knowledge than ever before.
What does it look like?
Toggling to "Owned by Organisation" on the top right corner, this dashboard view shows a summary of current jobs (8 in this case) the number of Weployees currently working (8) and the number of outstanding timesheets to approve (0. Yay!) The "Open Jobs" at the top of the screen are jobs posted that are not yet filled. Below that, "Jobs" are the jobs that are currently active within the organisation.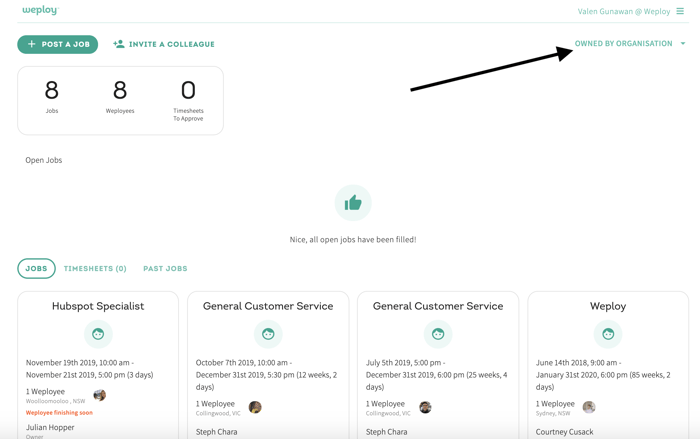 Each of these "Jobs" can be clicked into for full visibility into the profiles of who is working them, their contact details plus options to either extend them, or approve their timesheet. Don't panic! Jobs can only be Extended or Approved by the user who has posted it so no body else in the organisation will be able to change the details, this is just for visibility across the organisation.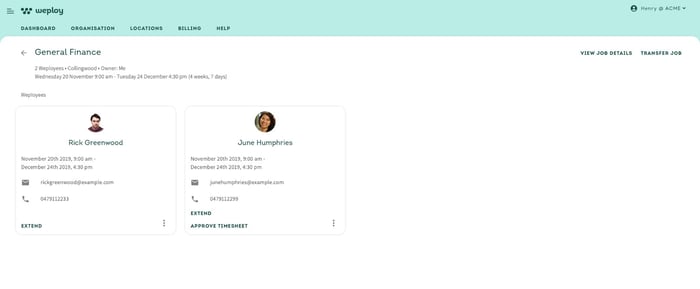 By clicking "View Job Details" at the top right, users can go into view the full role specifications – who posted it, tasks required, any meeting instructions and so on.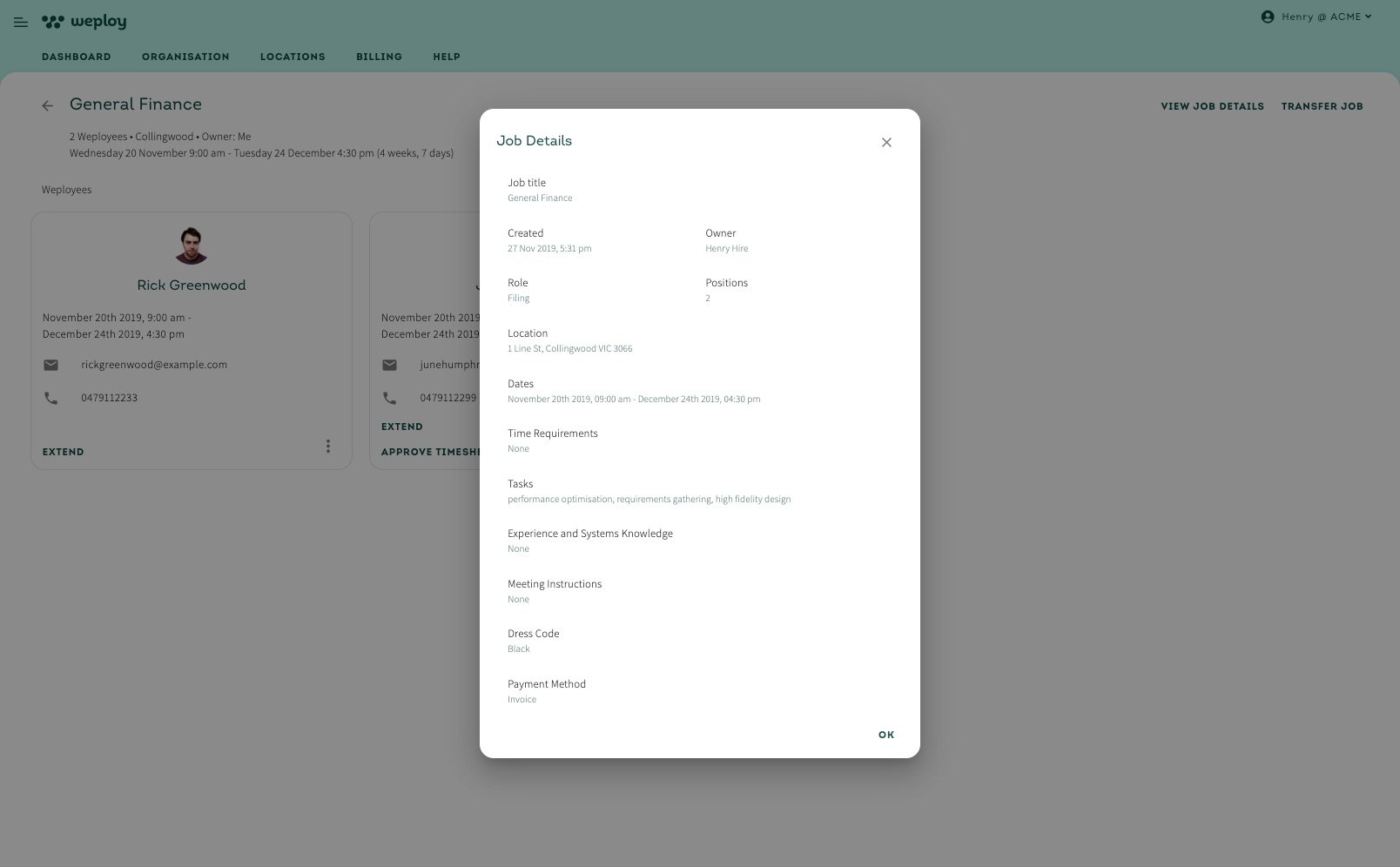 Co-founder and CEO of Weploy, Tony Wu says:
We're committed to our customer needs first and foremost. As part of this we're continually tweaking and updating our tech to be able to deliver those users what they need most. The latest feature goes hand in hand with our company values of Transparency and Visibility, and I'm super proud of how our product is morphing and improving in line with our company missions!
Couldn't have put it better ourselves! Connect with us on social media to stay in the loop with future updates and if you have more improvements or feedback for us – don't hesitate to get in touch and help us along in our mission to create a more fearless and empowered world of work!