You read about it in the blogs, hear about it from a friend of a friend and see it in the news, but when push came to shove and we needed to raise some money for our start up, we had no idea what the "correct" way of doing it was. So for us, we decided to do what we knew best - Hustle.
Step 1: Identify a problem
It all started when our Co-founders Nick and Vince were having dinner and chat turned to the common pain points of the outside vs. realities of running a business. One point in particular made them really laugh; how Nick - owning both a hospitality recruitment business and a restaurant, ended up being his own biggest client some weekends! It dawned on them both, that even though they had such different businesses, they still faced a very common problem: the difficulty of accessing quality support staff on demand.
Recently resigning from one of the top recruitment firms, I was feeling disillusioned with the industry and was looking for an opportunity to pursue my own venture. Nick was a mate from Brazilian Jiu Jitsu and he called me one night, saying he's got this crazy idea that he knew I'd love. But when I caught up with them and they outlined a detailed strategy and business plan with some crappy drawn wireframes on paper napkins, I was impressed. They asked me what I thought.
Well reader, I saw the future.
Step 2: Design a solution
Everything about it made sense. What I disliked about the industry, it could address, and what I loved about the industry, it promoted. But if I've learnt anything in the past few years it's that everyone has ideas, but very few have what it takes to execute. So I asked, how are you going to turn this into a reality? And that's where I came in. They weren't as tech savvy as I was and drafted me in initially to turn their wireframe drawings into something more visually appealing. Sounded easy enough, so I went off and found a magical tool called Marvel and Paint and got creating.
Fast forward a few weeks and Vince told Nick and I that we were invited to have dinner with an investor who had previously invested in one of his other projects, and wanted to hear about Weploy. So a few hours later, there we were in Nick's restaurant and Van and his wife walked in - he looked at Vince, then looked at us, and said, "what are you doing here and who are these two?
Great start.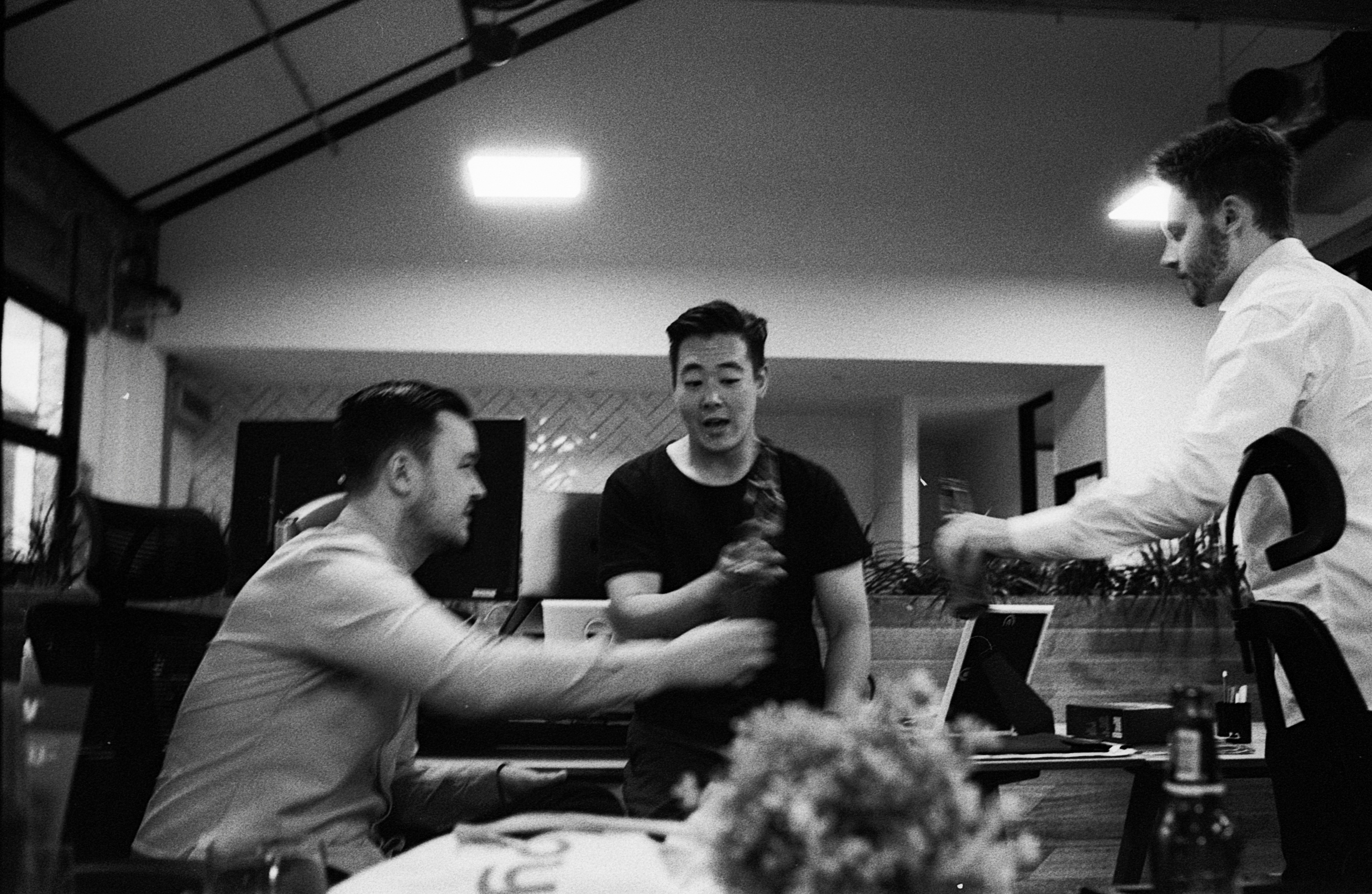 Vince knew us well, and instead of telling us that we needed to hijack an intimate and romantic dinner for a business proposition..., we better just do it. So we all sat down and he started introducing us and explaining Weploy, for the very first time. Van wasn't interested. I pulled out my phone and showed him the wireframes and by the end of the dinner he was interested, but not convinced. I like to think it was more to do with the wireframes than the Vietnamese Fried Chicken that improved his mood. Either way, we had a few days before he was to return to Vietnam, where he would be pitched 1000 more ideas and our opportunity would probably be lost. We tried to arrange another catch up but time just didn't permit and we were out of ideas. Until Vince sent us a text message saying, "I'm going to Vietnam, be back in a few days." We didn't hear anything and then one morning I woke up and looked at my phone: "WE'RE IN"
Step 3: Hustle
This is my favourite part of the story. Vince knew that Van was close, but needed some one on one time and wanted to see some tenacity and determination to turn this idea into reality. So Vince did some investigating and found Vans returning flight and booked himself on (he still complains about having to buy a business class ticket!) When he boarded the plane though, he found he had misjudged the seating and was seated one person away from Van. So he asked the person in between to swap places but he wouldn't comply, so for the next 8 hours, Vince leaned over him and walked him through the business plan point by point, until finally, Van turned to him, nodded, smiled and said; "Ok, let's do it. But one condition, you make this global."One week later, we had $1 million in the bank, and a year on, we've won multiple awards including the most recent Emerging App of the Year at Xerocon 2018, are working with some of the coolest and most forward thinking organisations Australia has to offer whilst changing people's views on employment daily.