Our developers are constantly working on improvements that will enhance the Weploy platform and help our customers operate with optimal agility. The latest updates will improve the speed and seamlessness of the hiring process, so that managers can get back to the strategic work, critical thinking and specialised projects that will help them improve business operations and continue providing top quality Customer Service.
In these uncertain times, organisations must ensure they are running as efficiently as possible and saving costs wherever possible. Weployees will help to safeguard your central team and scale up on demand whilst eliminating agency fees and extra costs associated with traditional recruiters.
Through Weploy you can seamlessly rehire staff who have worked at your organisation before using your 'Pool'. Having a talent pool to dip in to provides added peace of mind that the Weployee is able to do the job. They will have proven they are a cultural fit, have prior knowledge of your organisation and you will have already spent time training them on your company policies, processes and procedures.
The Benefits
See at a glance, which of your past Weployees are available (even without needing to post out a job)
Send a job offer out to a customisable list of your past employees and select your preferred candidate to hire
You can post offer out to a past Weployee even if they worked for another department or hiring manager (we show who they worked for previously and when they last worked at your organisation) so you can rehire staff into your team that have working knowledge of other areas of your business
Rehire works with Job Repost so in less than 10 seconds, you can post a repeat job offer to a past Weployee, it is that simple! Quicker than a phone call
How it works
Rehire always uses the Select functionality in the centre of the above image - so you send out your job offers to a pool of past Weployees, and once they respond to the offer you are able to select your preferred candidate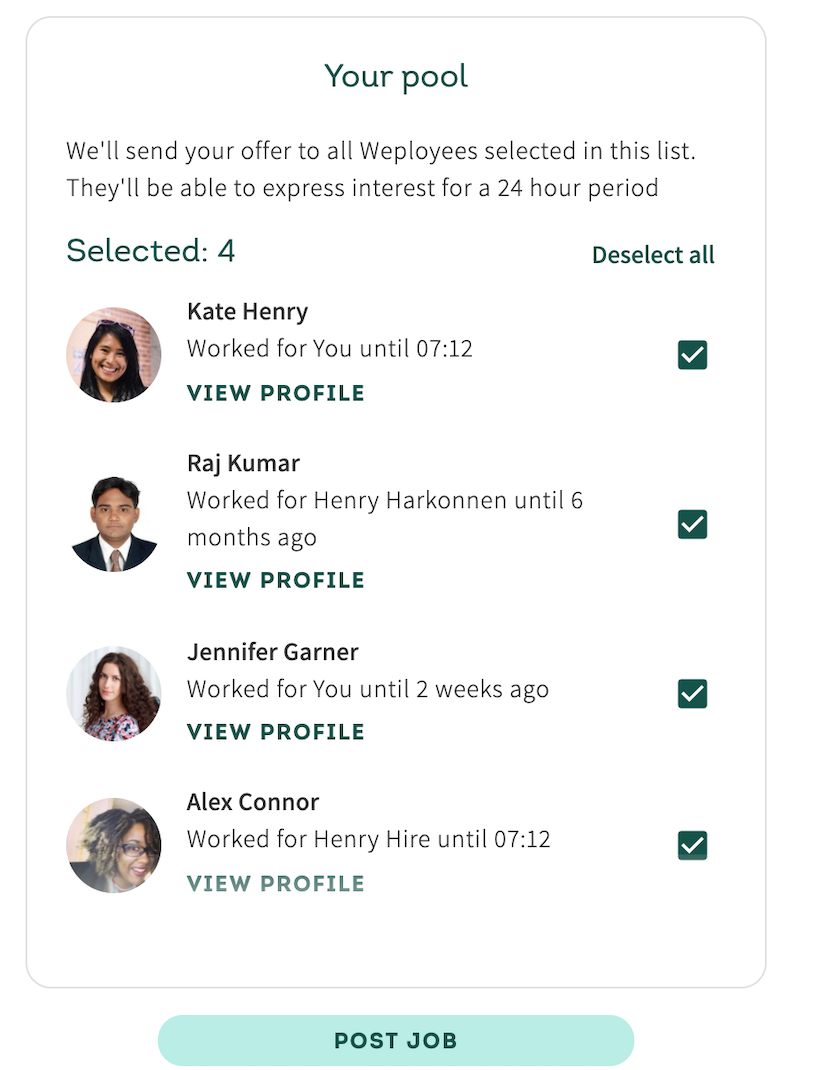 This pool selector panel on the right hand side of the job form will help you customise which of the past Weployees in your pool you are sending an offer to.
Watch the entire process in action in this video: