Delivering on our mission to create a fearless and empowered world of work, we've made some helpful new updates to the platform that will enhance the user experience for employers in the Customer Service industry. We know that Customer Experience leaders are passionate about delivering an absolute best in class service for their customers and striving for increased NPS scores, whilst building teams and working on complex, strategic initiatives that will contribute to wider business goals. By reducing the time it takes to hire temp staff (Weployees) and improve the efficiency of approving timesheets once jobs are complete, Customer Experience leaders will have their time freed up from administrative duties to work on the bigger projects that really matter to the business.
Update 1: Rapid Reposting
We're delighted to introduce: Rapid Reposting! Now, when posting a job that you've already posted before, the "Rapid Repost" option allows you to choose whether to draft a new job with special details, or choose a saved template job from previous job postings.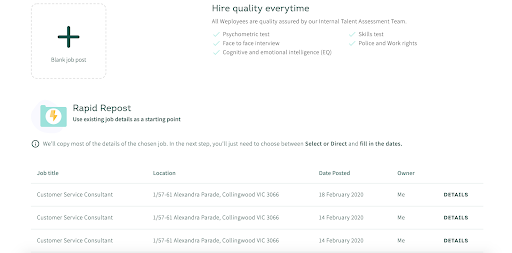 An overview of your saved templates will display the location and Job Title at a glance, or you can click into "Details" and a pop up displays all the details of the previous job card, including Dates, Tasks and Systems Experience as seen here: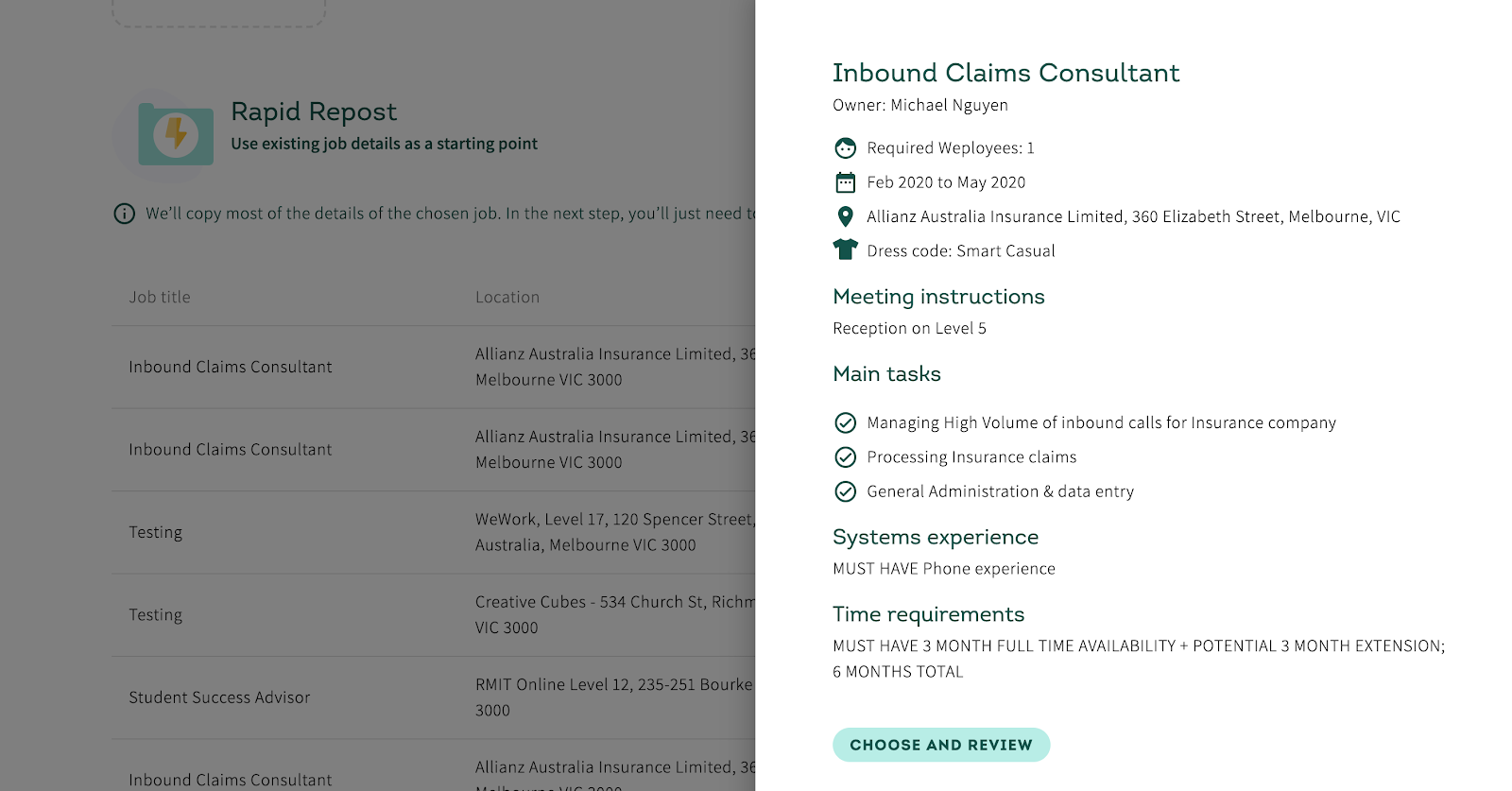 Simply hit "Choose and Review" to continue with this job posting, then all you need to do is decide whether you'd like to post it as a Direct or Select job like you did at the very beginning: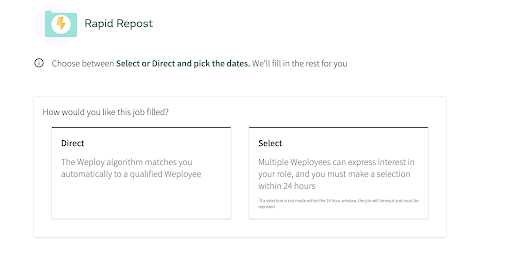 …..and whichever option you choose, scroll down and the job form screen will be pre populated with all the details of your previous job. Note: Make sure you add in the new time and dates for when you want this job to start.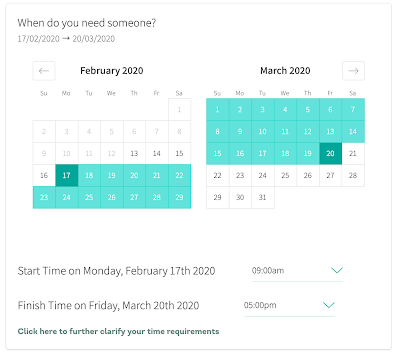 Don't forget to double check the location if you have multiple saved on the platform, and also the number of Weployees requested as this can vary from job to job.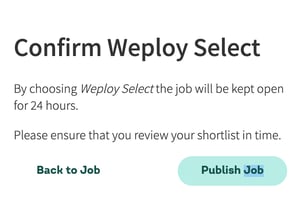 Finally, you'll be invited to confirm by hitting "Publish Job" and the reposted job is now live and ready to be sent out to our community. Now you can make quick hires with more efficiency and minimal clicks! Look at you go!
Update 2: Bulk Timesheeting
This feature was introduced after feedback from our clients at Deliveroo. For high volume roles at busy Contact Centres, the extra clicks required to approve Weployee timesheets individually was taking up precious time.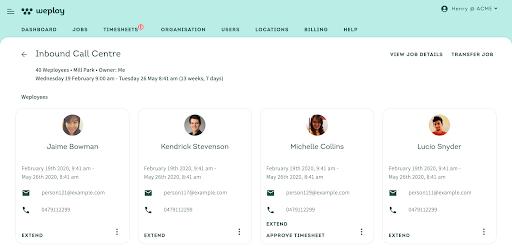 Now, you can click on the Timesheets page to view each timesheet awaiting approval listed together in one place with a checkbox feature alongside each.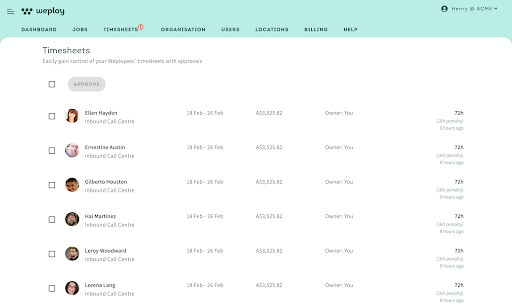 Click on a Job entry to glance over and review the hours worked in a pop up, without having to navigate away….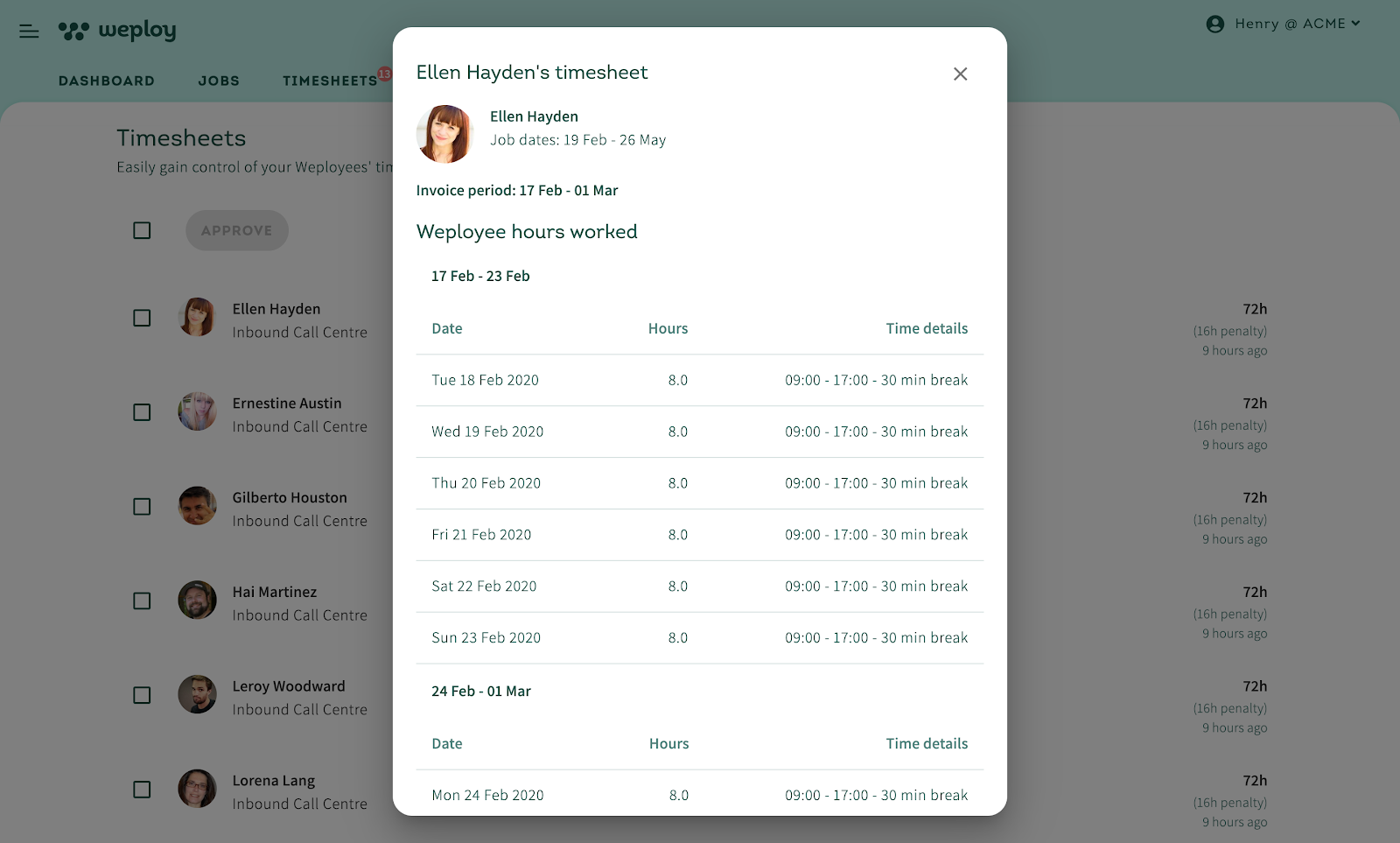 Then you can simply select the checkbox alongside each one you're happy with and approve outstanding timesheets in bulk.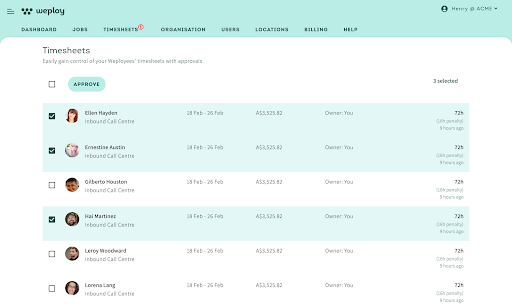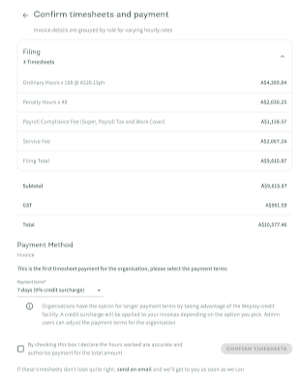 The selected timesheets will consolidate themselves and invite you to confirm the total outstanding amount required in one invoice with the full cost breakdown displayed.
And voila, you're done! The Weployees will be paid in 10 business days, and you can go back to worrying about what to have for lunch instead of clicking around approving timesheet requests. Woohoo!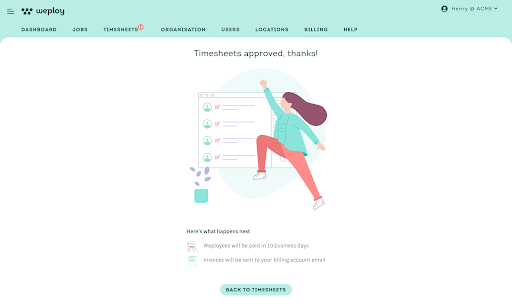 The eagle eyed, or veteran Weployers amongst you may notice our super cool new illustrations too which, (in our humble opinion) make the whole User Experience feel that little bit more pleasurable... and dare we say it, a lot less like work!
We hope you agree. As always, we're open to feedback and love hearing from our community of Weployers and Weployees, so if you have any to share, feel free to get in touch with us on our social channels. Alternatively, if you'd like to see the new features in action for yourself, book a demo with a member of our Customer Success team.